defuser music dot com
a site to feature the music of David Chadwick, herein referred to as DC.
---
Home Page Postings Defuser Projects Defuser Departments All DC Songs
DC Writings and Books and cuke.com
---
Songs done by, with, and for Liz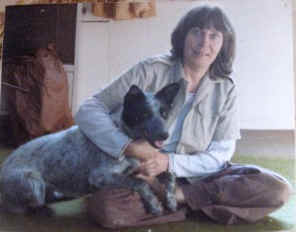 Daisy Elizabeth Tuomi
Visit her memorial page on cuke.com
---
Liz's youngest, Ethan Okamura, offers this song, Full Circle, in memory of his mother. I know she loved this song. See more of Ethan's music at This Old Earthquake.
Also by This Old Earthquake is Tsunami which Ethan played at Liz's funeral.
---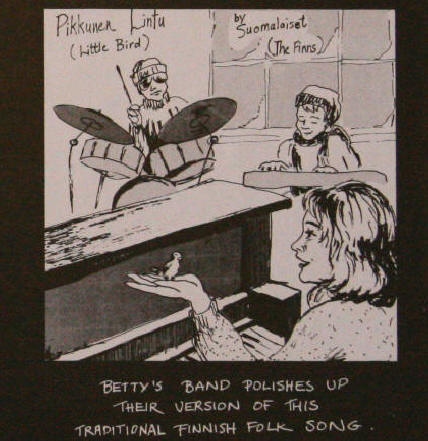 With Liz singing and/or playing
Little Bird, a Finish folk song she used to sing - introduced, played, and sung by Liz with booming drum (Brian McLeod), toy piano and guitar (DC), and sampled rhythm track as well as found on Music for a Comic Book Video. And here's the cartoon from the album cover for that song and there we can see the Finnish name, Pikkunen Lintu and Liz playing the part of Betty.
Basic tracks version of Liz singing Little Bird and playing the piano with DC softly playing guitar chords.
Here's her spoken introduction to the song
---
Everything Happens to Me - by Tom Adair and Matt Dennis. Liz singing and on piano. Recorded by DC at her home in 1984.
---
Stupid Boys, sung by Liz - from Boat of Dreams #12
Boat of Dreams is a music project I did in 1986. At the time Liz did the vocal on Stupid Boys we'd been apart for a year and a half and I was with Elin. Elin has a superb voice and did background vocals on two songs, but for this song, which Liz was quite familiar with, Liz's style (compared by several to Yoko Ono) was right on. We were not yet comfortable with each other again, but in the spirit of art first, she came to Studio D in Sausalito, laid down this memorable vocal track, and left. Of the many, many songs I wrote for her in Bolinas, [When You Gonna Get here] Lizzie is my favorite. - DC
---
Seven songs by the Accidentals, an acapella musical group that Liz Tuomi was in a while back. The other members were Dave Murray, Susan Goldhaber, and Steve Burroughs.
Six Finish Folk Songs played by Liz

Don't remember where I got tis tape. I thought it said Liz and Jane but Jane said she doesn't know about it. Liz's parents were immigrants from Finland and her mother told me that Liz spoke Finish without an accent. Any info on these songs welcome.
---
---
---
---
Note on song meanings - It's not clear what my songs mean or who they're really for. Liz was a partner, friend, teacher, muse but where did she, where do each of us start and end? And there's a degree in each song to which the subject is an actor playing a part and the object is a projection, another actor, a dream, each a dream, and every time it's sung the meaning and feeling, the intention changes and the actors reinterpret their roles, aren't even necessarily the same person. Their sex can change. From one point of view, these songs were written for themselves, even by themselves, and we served their purpose which is not clear nor stable. They are all flawed, their concreteness fades, and they disintegrate along with us. - dc
---
---
Home Page Postings Defuser Projects Defuser Departments All DC Songs
DC Writings and Books and cuke.com -----contact: defuser@sonic.net
---