defuser music dot com
a site to feature the music of David Chadwick, herein referred to as DC.
Home Page Postings Defuser Projects Defuser Departments All DC Songs
---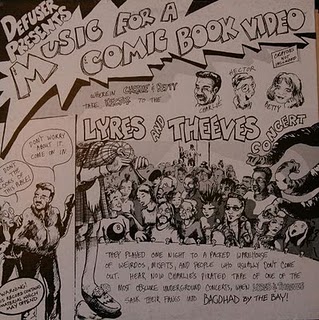 Music for a Comic Book Video - an LP released by Defuser in 1985
this album featured in defuser WEIRD section
We still have some boxes of 25 left and will sell by the box. - write defuser@sonic.net
---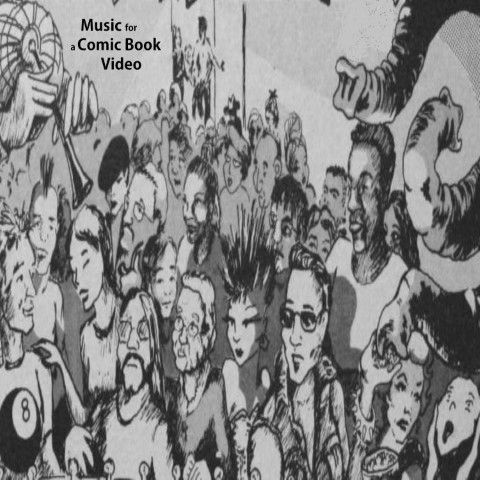 October 24, 2020 digital release
CD Baby
Hear Now page for MFCBV
Listen to these songs at
YouTube
Spotify
Apple Music
Deezer
Buy it at Amazon.com
At other places too

---
Created under the guidance of master sampler Ron MacLeod. I only sold a few records, but it was played in dance clubs from coast to coast. A DJ named Jonathon E who was working for the Whole Earth Review (or maybe it was Co-evolution Quarterly then) distributed it. I think I just found him on MySpace. We'll see. English DJ, 57 - has a link to a Dirk Dirkson [Wikipedia] - here's the memorial page at Fuzz Monster Records site. Dirk Dirkson and the "pope of punk" used to play this music. Or maybe he played it once just to please me. - dc
Go to On the making of MFCBV for more.
---
Compassion Cuts, Tapes, and Acetates
a record album which includes "Bouquet of Weeds"
---
See the whole four-sided cover with the great comic book art by Linda Marie Overbey and the inner sleeve with the words to the songs and the credits [expanded from the back cover] and a list of the songs.
---
See the list of song titles and listen to the music. It's just down below on this page.
[email me if you want a the LP - defuser@sonic.net]
---
See list of and listen to the songs on this site (better at HearNow)
---
Goutrey's blog page on Music for a Comic Book Video LP
On March 22nd Goutrey posted the album cover, the music and art to download, and this review which DC proudly reproduces here. I also wrote him and told him it was fine for him to make it available that way. Also see prior comment of 4-09-10.
Goutrey calls this blog "A Viable Commercial." Maybe that means he's giving shout outs to the albums he's posting. He describes the blog as being for "Obscure and unknown 80s post punk, minimal wave, electropop, new wave, and other stuff..." Here's what he wrote about Music for a Comic Book Video:
This is officially the weirdest album that I have uploaded. This is the virtually unknown self-released follow-up to Defuser's first 7" [it was also a 10"], the classic World Suicide b/w Freeze Please. They were from Marin County, just across the Golden Gate Bridge from SF. A wonderfully-presented LP, this comes in a gatefold sleeve that is laid out as a comic book. Each panel of the comic represents one song on the album.

The entire album is a concept album about a one-off concert by a fictional band called Lyres & Theeves. Except it's not as simple as that. At all. I could say it's primarily industrial, but it goes from electro to spoken word to industrial to sax skronkery to minimal electronic to experimental noise to an advertisement the band made for a local business chosen at random from the white pages to traditional Finnish folk music to darkwave to industrial again. Extremely subversive, very dark, very silly, very irreverent, very political, very punk, very art-damaged, this concept album is unlike anything - ANYTHING! - that I have ever heard before.
---
Music for a Comic Book Video - hit links to listen to the songs
[these are Goutrey's MP3s off the record - I have digital takes off the master tape too but these are sorta neat]
A
1-Charlie, Hector, and Betty Arrive at the Concert
2-Lil Otis
4-Professor Zeus and the Barking Elephants
11-Seven Judys
12 Ė Nonexistent Song
B
4-Sax Hell
5-Destroy What You Donít Understand
7-Donít Want to Be Your Enemy (Just Want to Be Your Friend)
8-Pocket
---
Home Page Postings Defuser Projects Defuser Departments All DC Songs DC Writings and Books and cuke.com ------ contact DC: defuser@sonic.net
---