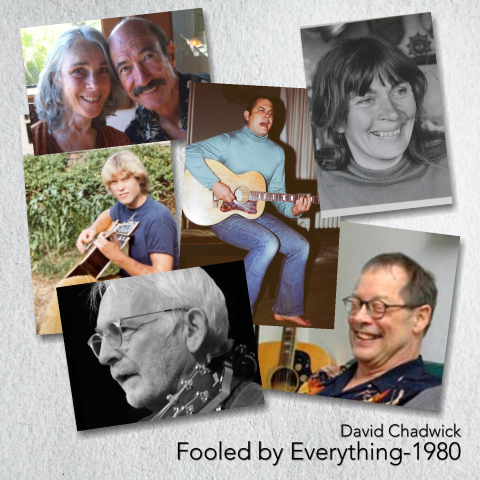 Right top - Elizabeth Tuomi
Left top - Susan Goldhaber and Dave Murray.
Right middle - Alan Stone
Left bottom - Don Armstrong
Right bottom - John Blakeley
Center - DC
More detailed credit info
below
The 1980 cassette was digitized by DC somewhere around 2005 and was remastered by Tude Arta Sedana at Kubuku Studio Bali in 2022.
The read links after the song go to scans of sheets with the words and chords as typed by Liz Tuomi and me, mainly her.
---
Listen to the songs at
the Youtube page for Fooled by Everything - 1980

Listen to these songs also at
Spotify
Apple Music
Deezer
Buy it at Amazon.com
At other places too

1-Fooled by Everything --- read w\chords
2-Be Too Much --- read w\chords
3-White Manís Blues --- read w\chords
4-Antidote to a Lullaby --- read w\chords
5-Like to Cook at Home --- read w\chords
6-Urge --- read w\chords
7-In the Bathtub --- read w\chords
B
1-Mama I Dreamed We Were the Bad Guys --- read w\chords
2-Grateful --- read w\chords [grateful page]
3-Cool Wind Blows --- read w\chords
4-Shootin the People in the TV Ads --- read w\chords
5-Happy As a Clam --- read w\chords
6-Where the World Was Born --- read w\chords
7-Gifts of Love --- read w\chords
---
Don Armstrong - harp, steel guitar, acoustic guitar, backup vocal on White Man's Blues
John Blakeley - percussion, lead guitar on Urge and Grateful
David Chadwick - all words and music by, rhythm guitar, production
David S. Murray - bass, trombone, percussion, production
Susan Goldhaber - percussion assist
Alan Stone (RIP)- lead guitar
Elizabeth Tuomi (RIP) - piano, vocals, untold assistance
Produced and Engineered at Duncan Street Studio in San Francisco by John Blakeley
Remastering - Tude Arta Sedana at his Kubuku Studio Bali
(c)1980 David Chadwick
Listened to the whole Fooled By Everything 1980 album. Amazing output DC! Youíre something like a fusion of Frank Zappa, Dan Hicks, and Mose Allison (you can quote me!). - Gaitano Kazuo Maida, founder of the International Buddhist Film Festival.
****
In 1980 for pretty much the whole year as I remember it, a group of us gathered regularly at my mate Liz Tuomi's studio and jammed on DC songs. I think we did about 65 of them. I was quite moved that Dave Murray, the musical impresario of Bolinas at the time who did the chorus and musicals, would devote himself to what was basically a long goalless jam session. He was joined by his mate Susan Goldhaber on bass and some percussion. I remember that her father was something like the only symphony Theremin player in the country - in San Diego. Don Armstrong who later became principal of the Bolinas school played harp and teenager Alan Stone played lead guitar - may he rest in peace. My mate Elizabeth Tuomi was on piano. We had fun but were lacking in discipline, maybe because of smoking so much pot. In November we made a tape I called Fooled by Everything after the first song - with the band dubbed Duck Soup. I was pretty pleased with it but after this tape I decided it wasn't fair to everyone to keep this up, that we'd gotten out of it what there was to get. I was touched that people were disappointed and wanted to keep going but we had other mountains to climb. I missed them all a lot and love to go back and hear us all together.
Liz, my mate for nine years, died in 2011. I still love and miss her.