defuser music dot com
a site to feature the music of David Chadwick, herein referred to as DC.
---
Home Page Postings Defuser Projects Defuser Departments All DC Songs
Whooptie Do
Baliyuga production on YouTube
---
October 1, 2016
# 1103 on list of all songs
Wrote this quick before some friends came over to jam so we could record it and send it to Katrinka who's in the States for a month. She approved. - dc
---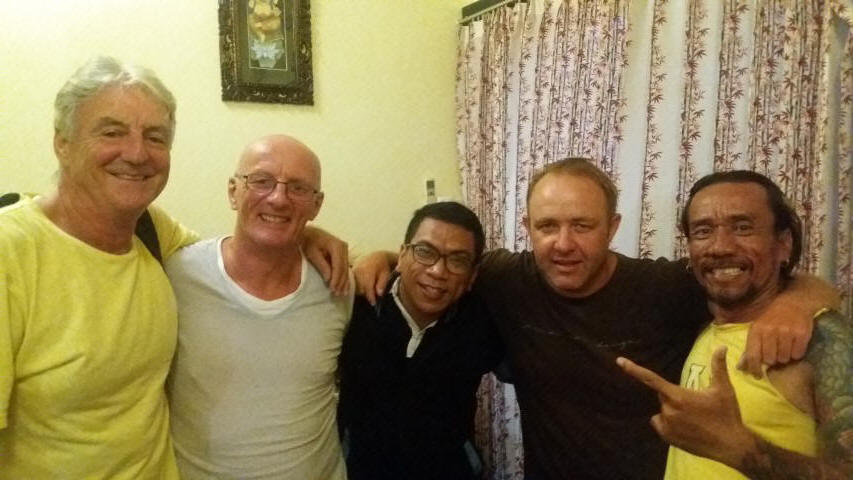 Wira Danu Prasetyoko - drums and alto background vocal
Aditya Faisal Winoto - guitar
Anthony Pierce (Bali Bill) - -guitar
Scott Mynors - guitar
Graham O Mahony
Jeffry Gustaf Male
DC - vocal, guitar, bells
Everyone but DC - background vocal
Recorded at Katdav Manor , Sanur.
L to R in photo: Bill, Graham, Faisal, Scott, Danu
taken by DC
Words and Chords
---
Whooptie Do

Am7 - D9 (all lines but B section)
Trinka went and flew da coup

Left me with my miso soup

I know now what I must do

Send a message out to you

Yes I will --- Sharpenin my quill

With help from Danu, Scott and Bill --- and the whole gang here

(A singin) whooptedo (4x)

Trinka's gone to coocoo land

Messin roun der with her fam

Watch out for dem ghouls dere mam

They wreck havoc where they am

Were sendin unto --- For her who wanders

This magic brew --- Way over yonder

Whooptedo (4x)





Indonesian

Whooptie Do


Trinka pergi dan terbang
Meninggalkanku dengan sup miso saya
Aku tahu sekarang apa yang harus ku lakukan
Kirim pesan kepadamu

Ya aku akan --- Mengasah pena bulu saya
Dengan bantuan dari Danu, Scott and Bill --- dan seluruh geng di sini

(Seorang bernyanyi) whooptie do (4x)

Trinka pergi ke negara gila
Kumpul-kumpul bersama keluarganya
Hati-hati dengan zombie disana
Mereka menghancurkan mengacaukan di mana mereka berada

Dikirim ke --- Untuk dia yang mengembara
Minuman ajaib ini --- Jauh di sana

Whooptie do (4x)

Dan jika kamu tidak segera kembali
Kamu tahu apa yang akan kami lakukan
Untuk nada bodoh yang sama
Kirim pesan ini kepadamu

Whooptie do (4x)






Bm7 E9

And if you don't come back soon

Am7 D9

You know what we'll do

Bm7 E9

To the same dumb tune

Am7

Send this message to you

Whooptedo (4x)
---
---
Home Page Postings Defuser Projects Defuser Departments All DC Songs
DC Writings and Books and cuke.com -----contact: defuser@sonic.net
---